Genesis / The Next Regenerative Economy
The Next Regenerative Economy
A shared infrastructure that lets producers, civil society, governments and markets act in tandem.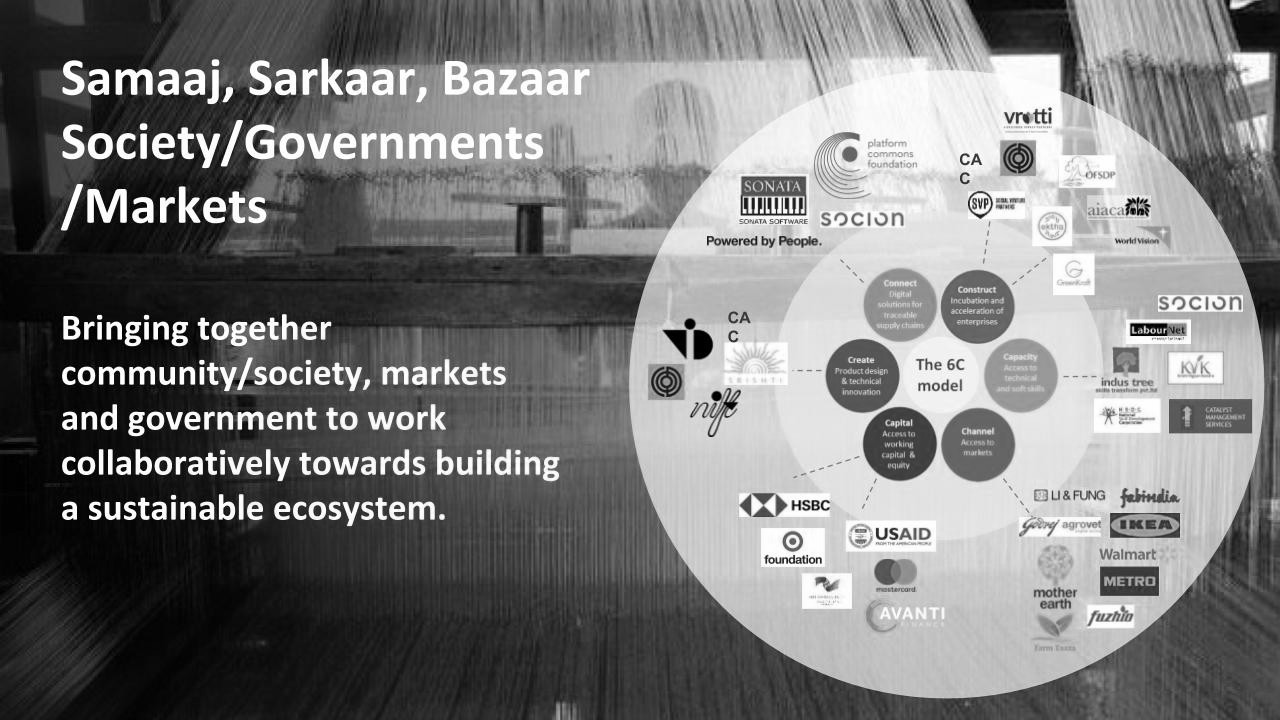 COVID and the large-scale societal challenges that have existed post rapid industrialisation and growth based on consumption, call for a new way of growing the Next Regenerative Economy.

An approach that PIE endorses creates a shared infrastructure that lets producers, civil society, governments and markets to act in tandem.
Proven Models
Proven Models in Farm and Off Farm Vrutti and Industree- Tried and tested models. Over the last 25 years of collective experience in developing self-sustaining producer companies in the artisan and agriculture sectors, we have a clear understanding of what works in both sectors.

Vrutti has worked with over 121,000 small and marginal farmers across India over a decade whereas Industree Foundation has worked with 60,000 plus poor and vulnerable artisanal producers, across multiple value chains.In order to make systemic change, we need to ensure that maximum value which comes from ownership is in the hands of the producers. Creating producer-owned companies in the farming and creative manufacturing sector therefore is necessary to ensure farmers and producers can carry on cultural practices that create prosperity.
Cultural Practices
Cultural practices that create prosperity – value addition at source. Value addition is reinstated as being fundamentally associated with primary producers. Well organised and professionally managed production hubs and spokes closer to producers/source are developed to move primary producers out of perpetual poverty by moving up the value chain. Community participation in being more than raw material providers, or job workers, to becoming end value creators, enables the derivation of maximum value from value chains. Rather than have producers migrate to urban hubs of manufacturing, these models allow for manufacturing within a radius of 5 to 25 kilometres of village clusters with producer groups ranging in size from 50-150 members. This distributed model of decentralised manufacturing has positive impacts on the lives of individuals and communities both economically and socially and reduces environmental costs associated with migration and large centralised manufacturing hubs.
Enabling Distributed manufacturing
Enabling Distributed manufacturing – Reducing migration and improving quality of life. For far too long, three key agents – government (both regional and national), private sector and civil society organisations have worked in silos and efforts have centred around providing services to the vulnerable in siloes or via trickle down economics, rather than changing the systems that reinforce poverty.

In order to enable distributed manufacturing, capital and sustained governance are key. This would essentially mean, supporting producer collectives with two kinds of financing – seed capital for the formation and management of the enterprise and working capital to fund inventory and receivables. To ensure artisans retain full ownership of the company, philanthropic funding is used for seed capital. Working capital is sourced from debt vehicles. This blended finance approach helps secure producer ownership. In order for distributed manufacturing, producer-owned companies to be self sustainable, capacity building in self- governance, and vested with women leaders, deep hand held by committed a multi-disciplinary team of professionals, for a minimum period of 3 years, has shown maximum success.