Methodology / Approach
PIE System Change Approach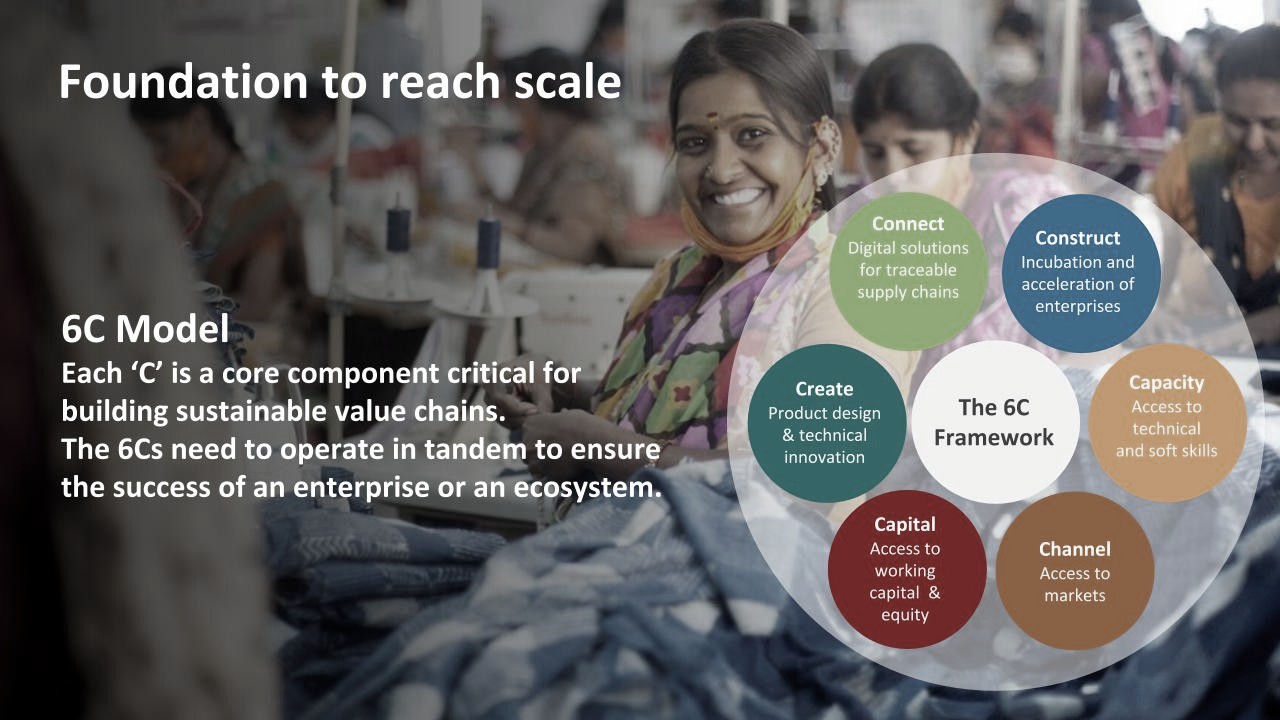 With the clear understanding of the problem, which is that millions of workers in the informal sector who do not have access to regular or enough income, are the most vulnerable before, during COVID, and after the crisis recedes, PIE's systems change approach is to catalyze and coordinate different agents in the ecosystem that directly influence the status quo;

The Deep Hand Holding (DHH) approach, developed and tested by PIE founding organisations, has been formalised into the 6C Framework, which can attribute appropriate actors in each element of the framework with very clear roles and responsibilities.
Co Creation and Collaboration
Creative producers and farmers have traditionally been ignored or seen as beneficiaries, rather than active agents capable of changing their own scripts. Critical micro inputs at crucial stages of their much needed aggregation and organisation disruptively lead to substantial outputs and outcomes.

Co creation with donors, markets, local governments, capital providers, facilitates collaboration and the means to disseminate shared learnings, placing capable producers at the heart of the ecosystem. Not only will the approach shift perceptions of informal sector participants, specially women, but will also help redesign the infrastructure that has held back their progress, in close association with State Livelihood Mission- Bihar, Odisha, Zero Budget Natural Farming Mission- AP, and government programs in Kerala. Ongoing market relations with global and national retail giants like IKEA, Big Basket as well philanthropic support from, leading global entities such as USAID, HSBC, is indicative of traction and success of the Deep hand Holding approach framed within the 6 C's. The evolution of a blended finance product using block chain technology, based on globally compliant production methods, further strengthens the co system already in place.

The 6C Framework outlines activities performed by the community, professional management service providers, such as production managers, trainers, curriculum producers, designers, story tellers, technologists, volume markets, as well as direct consumers, local governments, and blended capital providers.
CONSTRUCT
Individual producers self organising into a collective, develop their company charter, sign on professional service providers,(PSP) for Capacity, Create, Channel, Capital, via Connect (PIE suite of apps) and acquire/rent basic, hub and spoke physical facilities and critical equipment, (ideally via Government schemes).
CAPACITY
Producers learn improved technical skills- production processes designed to optimise quality,margins,competitiveness, entrepreneurship skills, and participative ownership responsibilities.
CREATE
Product design/value addition with a view to maximizing customer needed value addition at source.
CHANNEL
Producers embark on the journey of Identifying and gaining access to direct buyers from formal and higher value markets- B to B volume market customers, B to B to C and B to C, initially deep hand held by PSP. (for income increase)
CAPITAL
Real time data point sharing via technology and automation mitigates risk for blended finance supportive for Covid Response, gender economic empowerment, – philanthropy, debt and impact equity models.
CONNECT
The technology to support the ongoing operations and performance monitoring of the enterprise and that which connects all 6C service providers impacting it.